. Educational Books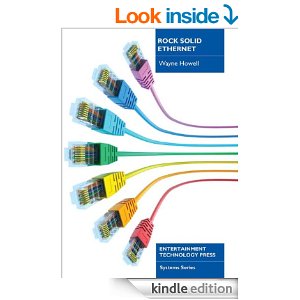 Review
In his Preface, John Drummond Montgomery says: "
Rock Solid Ethernet
 is actually a great read. Intuitively, a textbook on Ethernet should not be a great read and I pondered this seeming anomaly for the five days it took me to read this book. One reason 
Rock Solid Ethernet
 is a great read is precisely because it is not a 'textbook on Ethernet', it is the 'Bible on Ethernet', written in the form of a discussion between colleages about really interesting and relevant concepts concerning the place and use of Ethernet in the entertainment and industrial setting." 
The book is intended for all those involved in the use of Ethernet in a harsh environment, and the bulk of it is aimed at Entertainment Technology – one of the harshest environments available. It will be useful for both the experienced network engineer and the DMX512 tech making a first exploration into networks, and it is intended to address this new subject at a number of levels. 
It is relevant to end users and system specifiers, system installers, manufacturers and developers, and has been organised in such as way that each group of users has a specific chapter but can dip into other sections for additional reference.